Honing Your Craft: "With A Little Help From My Friends"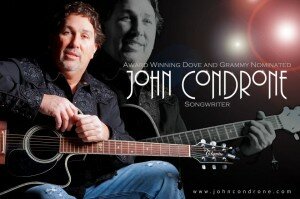 John Condrone, will give you insights on what makes the co-writing partnership work.  He will lead you through the songwriting process and the tricks of the trade to hone your craft and take your songs to the next level.  Attendees will experience the evolution of a song being developed through this collaboration process, by hands on application.
John is an Award Winning Dove & Grammy Nominated Songwriter whose commercial success spans over radio, television, film and today's digital game market

He's had songs recorded by Selena Gomez, Julie Reeves, Queen Of Hearts, Disney, and many others, including the # 1 single "If You Stole My Heart" which hung around 17 weeks in the Top Twenty and evolved into a CMT video.
John received a Dove award for "But Then" recorded by Young Harmony, with a nod for "Christian Country Song Of The Year". 
He is a much called on teacher for songwriter workshops and critique sessions, and continues to actively write, pitch and produce in today's music scene; as well as, hosting Songbird Cafe.