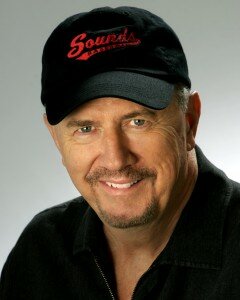 Bill's Whyte unique presentation of funny and twisted songs makes him a favorite everywhere he entertains.  Whether he's picking on pseudo celebrities in his song "Celebutard" or wondering how much he could get away with in "If I Had Boobs" he leaves the crowd laughing.  His tribute to AARP "Retired" was recorded by Ray Stevens and is always a crowd favorite.  Bill's song "I'm Goin Ugly Early Tonight" was recorded by Cledus T Judd and is the perfet howling climax for his routine.  "I'm Going Ugly Early" written with Brent Burns finished number two a few years ago for "Novelty Song Of The Year" at the Just Plain Folks Music Award Show in Nashville over hundreds of entries worldwide.
However, there is also a serious side to Bill which has resulted in many songs being written and recorded with songwriters and artists like: Keith Anderson, Craig Morgan, Linda Davis, Billy Dean, Brady Seals, Steve Dean, Steve Williams and many others.
In addition to songwriting, Bill has had a long career as a morning radio personality.  Bill has won numerous broadcast  awards including the CMA Award for large market "Broadcast Personality of the Year". Currently Bill works on air for "The Legend" 650AM WSM in Nashville.  Bill always makes sure that every audience leaves with as many "grins" as they do "hits".   Bill was inducted into the Country Radio Broadcast Hall of Fame in 2012.
As a syndicated writer for both United Stations and Premiere in New York, Bill provides comedy bits for production and distribution to morning radio shows across the country. He has also been the most frequent guest host for the Bob Kingsley Top 40 Countdown Show. Just this year, the CMA Broadcast Hall of Fame has honored Bill with a nomination.
Bill is originally from the St Louis area and currently resides in Nashville, TN. Since he was sixteen, Bill has been writing songs, entertaining, making people laugh and hosting award winning morning radio shows. He has performed at corporate events, casinos, fairs, comedy clubs, festivals and more.  Bill has hosted a number of "live" syndicated performance shows.
Bill performs in two trios on the road. "Evening In The Round" with Grammy winner Linda Davis and her husband Lang Scott…who happen to be the proud parents of Hillary Scott from Lady Antebellum
And he also is a member of "Hits And Grins" with hit songwriter Steve Dean and Victoria Venier.
And currently Bill is a co-writer on the title track of the new Joe Nichols CD "Crickets".
Bill's song "Cornhole The Song" was the featured piece of music in the recently released independent movie "Cornhole The Movie"…that features the popular Midwest bean bag game.
Through the years, Bill has performed with, Jeff Dunham, Heywood Banks, Larry the Cable Guy, Crystal Gayle, Little Big Town, Gary Morris and many others.
Bill has two comedy song CD's available. "Off The Wall" recorded "live" at the Bluebird Café in Nashville and the recently released "Leave Em' Laughing".