One might say that PJ Steelman's career began at an early age. His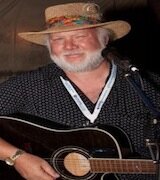 youth is chock full of learning to play a bushel basket of different instruments and performing in bands of all varieties and genre's. But what really stole his heart was the songwriting. Always wondering about the process, and with encouragement from musicians and friends, he eventually gave in to curiosity and tried his hand at the craft. But this just served to light the fire.
Citing influences such as Mickey Newberry, Kris Kristofferson, Paul Simon, Carole King, James Taylor, Johnny Mercer and Willie Nelson, PJ's passion and interest for songwriting led to a career and he received his first cut in 2007 when Joe A. Green recorded his song 'The Good Side of Goodbye'. He currently owns his own publishing company, Fat Walter Music, and works in hand with a variety of others, such as Mel Daisy Music, Sound Determination, and Sounds Of The Hounds Publishing. He also runs his own independent record label, Blue Cypress Records, and his songs have charted both nationally and abroad. His latest CD, 'This Point In Time', received a Grammy nomination for Americana Album Of The Year. Continuing to immerse himself in the business of songs, PJ enjoys working with emerging songwriters by serving as a venue host and stage coordinator for the Annual Nashville Songwriters Festival and is currently in the studio as producer for the newest Doc Bates release. PJ is slotted to release his own 8th independent cd in the spring of 2013. Online presence can be found at
www.pjsteelman.net, www.reverbnation.com/pjsteelman and www.facebook.com/pjsteelman.
.