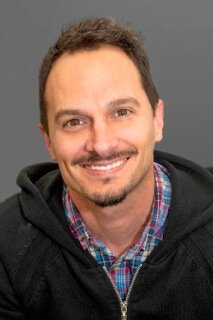 Eric Hurt graduated from Belmont University in 1999 with a major in Commercial Music (Composition & Arranging emphasis).  After graduating, Hurt was hired to do administration work by a Christian record label called ForeFront Records.  Desiring to move into a more creative role after a few years of working there, he took his first publishing job with veteran country producer Joe Scaife.  Hurt's job was to oversee the writing schedule of hit writer Steve Fox and to pitch his catalog to the country market.
After building his contact list in the industry, Barbara Orbison's company Still Working Music approached Hurt to join their team as Creative Director.  This job change led him one step closer to working in the genres that Hurt had a real passion for – rock and pop.  At Still Working Music he worked with a rock group called Luna Halo which signed to Rick Rubin's newly formed label American Recordings.
As Hurt continued to grow his contact list and experience, he was hired by Universal Music Publishing / Brentwood-Benson.  Brentwood-Benson was primarily a Christian company but Hurt saw this as a real opportunity to dig further in to the pop/rock world and to work that music more into Film/TV placements.   Here, Hurt grew the roster and aligned his writers/artist with Kelly Clarkson; Hot Chelle Rae; producers for Will I.Am.; Ad campaigns such as Subaru, Belk, and others; songs placements on TV shows and film trailers; artist showcase for top ad agencies in the US; and more.   As things were growing, Hurt found himself being approached with artist management opportunities on top of his responsibilities as a music publisher but his current working climate didn't really allow for both to co-exist.
Zavitson Music Group heard of Hurt's work though and hired him at the end of 2012 as their new VP of Creative/A&R.  This position allowed Hurt to mix the worlds of management and publishing and grow the roster of talent outside the country market.
Currently Hurt manages a group called PawnShop kings that recently signed a major label deal, manages and signed a publishing deal with Nashville rock group called MODOC that are currently playing major festivals, placed another act on The Voice, manages a young R&B artist that has been writing to tracks from Afrojack and working in Pitbull's camp among others, working with a new Christian act that is receiving significant interest from major labels, recently finished a new ad campaign for Oreo, and the list goes on…