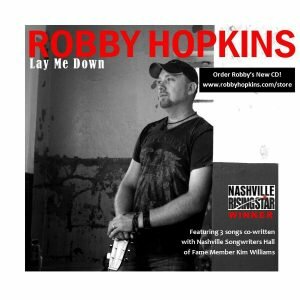 Robby Hopkins is a singer/songwriter recognized for his ease on stage and for his rich, country voice – often compared to Vern Gosdin, Keith Whitley, Merle Haggard, or Randy Travis – some of his favorite artists. Robby's opened for country stars Randy Houser, Lauren Alaina, Craig Morgan, Aaron Tippin, Gene Watson, and Travis Tritt. He's co-billed with The Band Perry, Alan Jackson, Miranda Lambert, and more. He's won songwriting and talent competitions and has been named "Best Country Artist" for the Chattanooga, TN area, "Best of the Best" by WDVX Knoxville's Writers Block show hosts, and one of the "Hot Songwriters to Watch" by the Smoky Mountain Songwriters Festival. In April 2015, he won Nashville Rising Star singer/songwriter competition.
Robby was born in Spencer, Tennessee, and grew up in Northwest Georgia. He first caught the performing "bug" from his family. "I saved up child support money my mom gave me, walked to the pawn shop near my house, and bought my first guitar when I was eight. My Granny taught me a few chords, and I carried my guitar to school almost every day. I've always been surrounded by musical instruments and singing my entire life. My dad's family and my mom's family all play & sing," Robby said.
He wrote his first song at age sixteen, and has been writing ever since. Over the past year, he's co-written many songs including a few with hit songwriters. In Robby's words, "I'm constantly improving and expanding my catalog of songs! I love playing at the Bluebird Café in Nashville (the top listening room for songwriters to perform). It reminds me that even though this music road is long, I've come a long way from where I started. I work hard at songwriting and getting my music out there each day. I'm excited about the opportunities I've had so far, and look forward to what's next! I'm blessed and thankful for the strong support of my family, friends, and fans. I couldn't do it without you!"
Robby has just released "Lay Me Down" a 10-song album recorded in Nashville. It's available on his website now, and will be available on I-Tunes in the coming weeks.
Hopkins performs acoustically and with his band at music venues, festivals, amusement parks, restaurants, churches, television, radio, private, charity and corporate events.
For more information or to connect with Robby Hopkins, go to his:
Website:          www.robbyhopkins.com
Facebook:        www.facebook.com/RobbyHopkins
Twitter:          www.twitter.com/RobbyHopkins1
You-Tube:        www.youtube.com/RobbyHopkinsMusic