2014 SMSWF Song Competition Winners
The SMSWF is so proud to announce this year's 2014  SMSWF Grand Prize Winner for his pop song "The Music Doesn't Judge Me" written by Charlie Katt.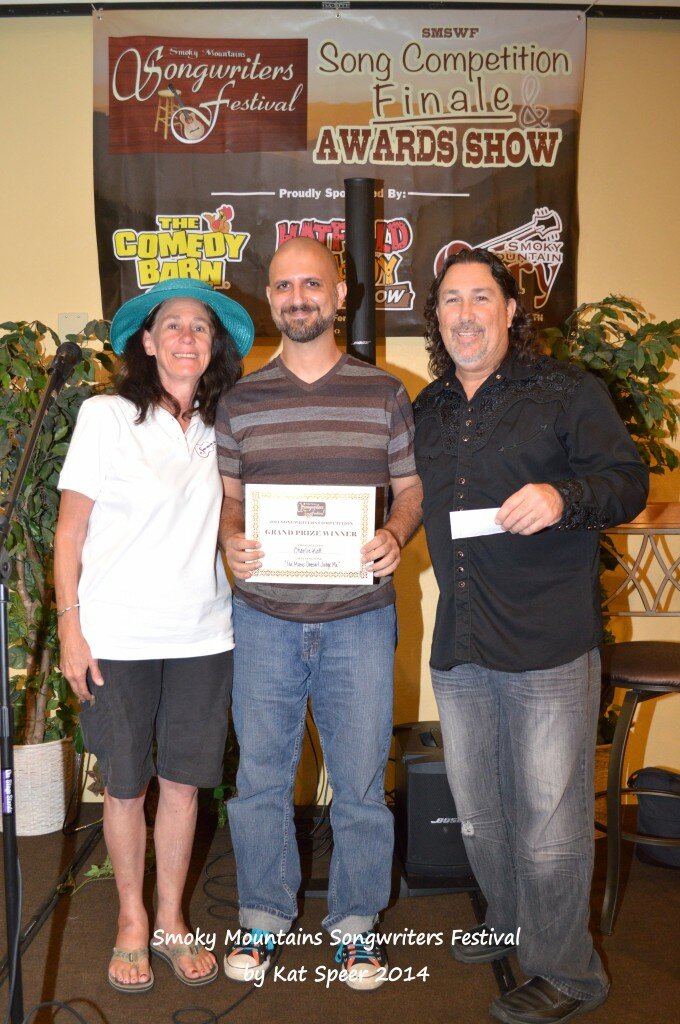 This year's Listeners Choice went to a gospel/inspirational entry "Harvest Song" written by Mitch Townley.   Pictures to follow shortly.
Click here for the Category Winners  and Honorable Mentions.
It is all about the song.  The Honorable Mentions' scores reflect the top ten song scores in each category.   All of you are winners who participated in this year's festival.  There were only sixty songs out of 276 entries that did not score in the upper 50 percentile.
2014 SONG COMPETITION PERFORMANCE FINALE & AWARDS SHOW was held at  Noon – 3 PM Sat. Aug. 23rd at the Edgewater Hotel, 404 River Rd. Gatlinburg, TN.  PUBLIC  WAS INVITED.
Click here to see 2014 SMSWF Song Competition Finalists
Click here to see 2014 SMSWF Song Competition Honorable Mentions
Click here to check out the Judges for the 2014 SMSWF Competition.

SMSWF is fortunate to have Larry Beaird with Beaird Music Group Nashville, Bill Whyte, 2012 Hall of Fame Broadcaster and WSM Radio announcer,  Lisa Johnson VP Creative and she runs Razor & Tie Nashville, Kim Williams, Grammy Award Winner and Hall of Fame Songwriter, and Doug Johnson, A&R Black River Entertainment as judges for the 3rd SMSWF Song Competition.
Song Categories:  BLUEGRASS, COUNTRY, FOLK, GOSPEL/INSPIRATIONAL, LYRICS, POP/ROCK
Contact us at:  smswf@yahoo.com  or 865-604-9066.
Check Out Our Sponsors and Thank them for supporting the SMSWF
The SMSWF Song Competition is made possible by FEE HEDRICK ENTERTAINMENT.