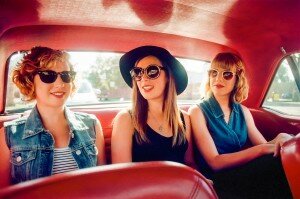 "Good English is a three-sister rock band from Dayton, Ohio that has built its unique sound on a bedrock of indie, roots, and punk-influenced rock and roll. Catching a first glimpse of these fresh faced sisters, uninitiated audiences often find themselves anticipating girl pop. Moments into a typical set however, audiences discover a sound and a feeling that speaks more clearly of depth and soul. The young trio's ability to use understatement, grace and a calm sense of purpose while unveiling their original brand of eclectic indie rock, leaves new listeners routinely entranced.
The band, comprised of Elizabeth (vocals, guitar), Celia (bass), and Leslie (drums) Rasmussen, began as a four piece with a friend when the girls were in junior high.  Coming up through a locally renowned music store and the network of musicians who taught them there, the girls began playing live shows in 2006, establishing strong local support in the Dayton music scene through their routine performances in bars, music venues and community events. In 2012, the sisters lost their fourth band mate who left for college, and the band committed themselves to moving forward as the powerful three-piece they've become.
In 2011, with their 4th member Annie Bartlett still on board, Good English self-released their first EP entitled Take Control.  A simple compilation of 5 songs written while in high school, the EP hints at the riff-rock underpinnings and powerful vocals that anchor much of the band's current sound. In August of 2013, the girls released their first full length album, Radio Wires, which positioned Good English as a band to watch in Dayton as the album received a "Best CD of 2013" recognition from the Dayton Daily News.  Additionally, the release of Radio Wires garnered radio attention at the region's well known Antioch College NPR affiliate WYSO, who routinely play tracks from it on their most well-known program, Excursions, and their local music program Kaleidescope.  The album buzz and band activity also caught the attention of professional video producer Victor Matkovich out of Columbus, who spent several months in 2013/14 producing the recently released video for the album's title track.
With vocal and instrumental comparisons spanning an enormous spectrum…part Nancy Sinatra, part Karen O, part Sleater Kinney part Black Sabbath, the dark rich vibe the band is channeling is a haunting and engaging revitalization of post nineties rock and roll."
Here is a YouTube link to our official music video for Radio Wires:
And here is a YouTube link to a live video of a new song: