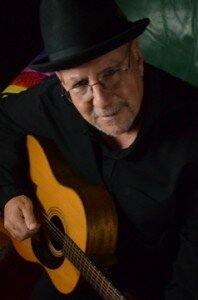 Carl Solomon has been described as "A Weaver of New Americana Folk Tales" – as an Americana artist, He tells stories. Weaving them into songs, songs you won't soon forget. He shares with you a tapestry of words and music.  He weaves together the story songs of his journey through life, the characters he has met, and his many adventures – from carnival barker to counselor. Carl has his own voice, Carl 's influences are songwriters/storytellers: Townes Van Zandt, John Prine, Hank Williams, Bruce Springsteen, Guy Clark and Woody Guthrie. Carl writes and performs full time. His songs will introduce you to a unique songwriter who loves and listens to the world.
Music has always had deep and meaningful part of his life. Carl lived in Baltimore than Brooklyn, and back to Baltimore, Maryland. He would sit as a child around a record player listening to Aaron Copeland's Appalachian Spring, and Fanfare for the Common Man and Billy the Kidd.  Carl heard stories in those melodies. That music also brought thoughts of his Grandfather, Charles who drove a horse and wagon as a tinker/peddler through Appalachia.  His other His Grandfather said Go West, my son; he did just that and found a new home in Portland, Oregon.  Carl still has many stories to be told and songs to be sung.
Carl released his debut full length CD "Black Top Beauty" this last June. Recently his music was added to Pandora, as well as Internet radio in the Netherlands and "Acoustic FM." He shares his love of music performing weekly at the PortlandInternationalAirport. This March, he was honored by Portland's Chapter of West Coast Songwriters for "Best Performance" of his song "Those Two Crows" – bringing one of the judges to tears. He was recently selected for honorable mention at the Smoky Mountain Songwriting Festival.  You can find his music on Itunes, Amazon, Spotify,CD Baby and his website.
www.carlsolomonmusic.com