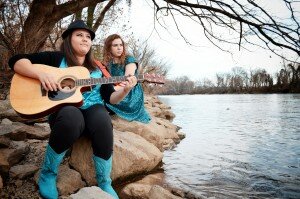 Sister duo Lexus and Cheridan Shipley are the Railroad Angels, a modern country duo from Kingsport, Tennessee that rock the stage with their energetic brand of modern country music and high-octane stage show. The girls have sung together most of their lives but didn't form a band until the summer of 2011 and quickly became one of the more prominent live acts in East Tennessee and have taken their act as far north as Ohio.
In 2012 the North America Country Music Association International (NACMAI) named the Railroad Angels their Duo of the Year. They repeated that success by winning the same award with the Virginia Bluegrass Gospel Country Music Association (VBGCMA). The following year the duo repeated as Duo of the Year in the VBGCMA as well as winning the organization's top honor for Songwriter of the Year. The NACMAI awarded the group their Horizon Award in 2013. Later that year the group signed a development deal with Nashville-based Big Whirl Records.
Feel free to browse the website, listen to some music, or watch the group's YouTube videos and get to know them. Come out to their shows and say hello. They love to meet their fans.