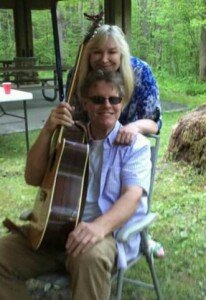 Marilyne Mayhall Denham was born in Kentucky she now commutes back and forth from Lexington Kentucky to the Smoky Mountains. Marilyne has been writing since she was a child. Learning a few guitar chords at the age of 21, she learned to put her poetry to music. Coming to Gatlinburg at 22, she began playing in local area establishments, meeting other musicians and jamming until the sun rose. She learned many different styles and genres including folk, pop, rock, rockabilly, bluegrass, and traditional country etc. She was able to play and sing many varieties of music. Influenced by all these styles her original material is a mixture of many types of music. Marilyne played for many years as a single performer, lead singer in a dance band and finally met the Wallace sisters, 3 fiddle playing sisters and formed Wild Mountain Honey. Wild Mountain Honey toured throughout Kentucky, Tennessee, Alabama, and Georgia and were a favorite around the Smoky Mountains performing for the city of Gatlinburg on a regular basis as well as many concert dates at Dollywood.   A few short years ago Marilyne met Logan Asbury. They had known each other 20 some years ago and reunited at a friends birthday party. Their musical abilities complemented each other and they began to share experiences and turn them into songs!
Logan's background in music started while he was growing up in Georgia where he played in high school dance bands. Always diverse in his musical taste, he developed a love for soul, R&B and pop as well as the country classics on the Grand Old Opry, Porter Waggoner and The Wilburn brothers shows.  Moving to the North Carolina Piedmont after high school he broadened his musical roots learning to love of country blues and old time music. His musical journey continued into the Blue Ridge and Smoky Mountains, attending fiddle conventions and eventually settling in East Tennessee after playing at the Folk Festival of the Smokies in Cosby, Tennessee. A long time resident of East Tennessee, Logan has played with many bands and area musicians. Many know him from his days playing in Gatlinburg with his good friend Todd Wright and from his days playing bluegrass at the Front Porch Restaurant in Cosby, Tennessee, famed for its combination of bluegrass music and Mexican food! Playing mandolin and dobro as well as guitar he combines his eclectic musical taste with Marilyne's elegant songwriting to produce a unique blend of contemporary American music. Performing songs they have both  co-written and written individually Marilyne and Logan are currently making the rounds at songwriter showcases at Chrystelle Creek in  Gatlinburg, the Open Chord and Mulligan's in Knoxville as well as performing with the new incarnation of Wild Mountain Honey with Cindy Wallace and Laura Wallace Knight.
You can find this duo performing frequently at 3 Jimmy's Eatery in Gatlinburg.  Marilyne sings every Sunday with pianist Micheal Hicks at 3 Jimmys.