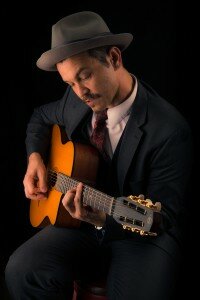 "Dean Johanesen´s style draws from a number of influences, but appeals to fans of Country, Americana, and Gypsy Jazz. A consummate performer, Dean not only tells good stories through his music, but seems to live them in every note," says Steve McAllister – SRQ Music Scene
Originally from New York, accomplished singer/songwriter/guitarist Dean Johanesen has made his home in many parts of the US including, Indiana, Nevada, Georgia and Florida.
Johanesen's mother delivered motor homes when he was young and the family traveled around listening to many different artists and kinds of music. Led Zeppelin to Simon and Garfunkel, classic country to musical soundtracks provided the soundtrack to his youth and his diversity of influences had an effect on Johanesen's interests musically as well as giving him a feel for the road.
After relocating to Florida following a stint of living and performing in Atlanta, Johanesen fronted The Human Condition, a well-regarded acoustic-based rock group that touched on elements of country, Americana, and singer-songwriter influences. The group's final line up incorporated elements musically that had the band taking part in "jamband" based festivals combining Johanesen's songwriting instincts with elements of the band's improvisational strengths.
In 2013, Johanesen released his first solo record with intentions of getting back to the importance of the storyteller songwriting format while a recent passion for gypsy jazz music in the vein of Django Reinhardt has put Johanesen on a musical path with a focus on new stories of old times. Non fictional characters from the '20s and '30s, circus performers, the side show, Prohibition, the war of currents all placed in a backdrop of gypsy swing.
Dean has opened for Robbie Krieger (The Doors / Jam Kitchen), Glen Phillips (Toad The Wet Sprocket), Mason Jennings, Donovan Frankenreiter, Howard Jones, Martha Wainwright, Peter Mulvey, John Waite, Kevn Kinney (Drivin' & Cryin"), and Steve Forbert.