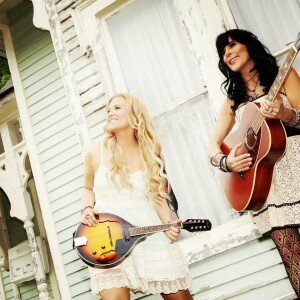 Jude Toy and Erinn Bates had won competitions, booked major gigs, and turned many heads on Music Row for a while before they even settled on their name, The Darlins. Their unique blend of rockin' country guitar riffs tinged with bluegrass infused mandolin and vocals, make this hot female duo a force to be reckoned with on the country scene. Their image, powerhouse songwriting, high energy performances, and soulful mountain harmonies elevate these girls high above the rest. Not only are they multi-talented instrumentalists, but their competitive songwriting skills have helped initiate a posse of superstar hit songwriters who they often collaborate with. The soulful guitar playing and rich harmonies of Jude Toy paired with rootsy mandolin strumming and the hauntingly beautiful voice of Erinn Bates makes one hit making team.


The Darlins met at the world renowned cosmetic company, Sephora, where both were makeup artists while pursuing music. The Belmont University graduate, Erinn Bates, who had just signed a major label deal, remembers seeing Jude at the legendary Bluebird Cafe and being blown away. "I couldn't believe the songwriting and incredible musicianship of this girl. I thought, I need to be writing with her," Erinn says. When the Nashville native's label deal ended, she kept thinking that she needed to be partnering with someone like Jude who had as much drive and ambition as herself. Little did she know that a few months later, they would begin a journey together that would change both of their lives for the better.

Guitar player and vocalist, Jude Toy, had moved to Nashville from the Pacific Northwest to pursue her dream of playing and writing music. After working with chart topping hit men, developing a tv show, and building a star studded network of industry friends, she wanted to start up a duo and immediately thought of her co-worker, Erinn. "I had heard a recording of Erinn and thought her voice was unbelievable. I knew she was a great writer as well, so I reached out and asked if she wanted to work together," Jude says. 

Since their first performance as a duo, Erinn and Jude have performed all over the USA, gained a tremendous amount of fans, and secured endorsements with Breedlove Guitars, Steve Clayton Inc., Australian jewelry designer—Julie Miles, Capturing Couture, and MAC Cosmetics. In 2013, they won the national battle of the bands competition, The 2nd Annual Hourly Gig sponsored by job search site, Snagajob. With over 100,000 votes cast by the public, the people voted The Darlins as their winner and they won the coveted spot to open for superstar country duo, Montgomery Gentry. 

In 2015, they released their EP "Crush" and performed all around the country, most notably, the Country Cruise with Neal McCoy, Trace Adkins, Joe Nichols, Craig Morgan. Currently, The Darlins are performing around the country, recording, and writing for their next EP. Get their debut EP "CRUSH" on iTunes, Amazon, and on their website www.thedarlins.com/store.