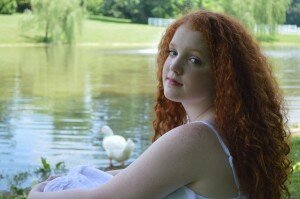 Taking her place within the ranks of young artists making their mark in the music industry, multi-faceted recording artist, Lucy Rose George, is a 16 year old singer, songwriter, and musician from Kingsport, TN. Lucy recently released her debut EP, 'just sayin' and is chalking up a respectable list of performance credits from as far west as Phoenix Az, east as Syros, Greece, north to Minneapolis, MN and as south as Jacksonville, FL.
With a background in choir and musical theatre, Lucy has been an invited vocalist for the Organization of Kodaly Educators' National Honor Choir and the American Choral Directors Association Honor Choir. Her list of awards include 'Most Promising Country Female Vocalist' and ' Bluegrass Female Vocalist' from the Virginia Bluegrass Gospel Country Music Association, and she has brought home numerous awards from North America Country Music Association International including 'Bluegrass Female Vocalist' in the age group 13-16, ' Bluegrass Entertainer of the Year', 'Horizon Female Vocalist', 'Holiday Songwriter of the Year', 'New Gospel Most Promising Songwriter of the year' and 'Video of the Year'.
Lucy began penning her own songs at the age of 8 and this young writer/artist has been met with enthusiasm from seasoned co-writers and industry insiders. An engaging and entertaining performer, Lucy is also a multi-instrumentalist, and plays guitar, keyboard, bass, ukulele and drums. She is currently booking concerts in support of her new cd.