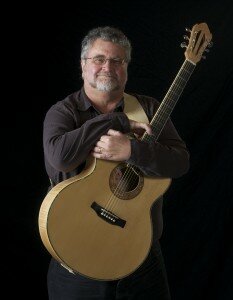 Born in Kansas and raised in South Dakota, Roy Holdren has been playing music all his life and has been a part of the Minnesota music scene since the early 80's playing in bands such as Sweetwater, Live Wire, Massey Ferguson, Ringer, the Alfalpha Males and now with Buffaloaf.
He is the co-coordinator for the Twin Cities workshop of the Nashville Songwriters Association International and makes regular trips to Nashville to write with songwriters there and to pitch his songs to major artists.
Roy, an award-winning songwriter, self-produced and released an album of his songs called Dakota Bound. He also wrote the title cut for the Killer Hayseeds' CD Rural Electric. His parodies If You're Gonna Play in Fargo (You've Gotta Have a Shovel in The Van) and Uff Da Minnesota! can be heard on many midwest radio stations when the snow flies. And he is a co-writer of five songs on the Maiden Dixie debut CD.
As a producer Roy has credits on several productions including Luc Doppler's self titled CD. That release also includes two songs co-written by Roy, "Sad Song Singer" and "Next to Nothing Town".
He is excited to be playing the Smoky Mountain Songwriters Festival and looking forward to meeting new fans and friends