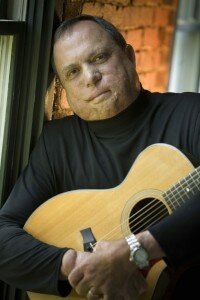 The Smoky Mountains Songwriters Festival is going to greatly miss it's Hall of Fame Songwriter Kim Williams.   Kim not only performed and taught at the SMSWF, he served on our advisory board and was a very integral part in what was happening at the festival.  We have never known a person who loved songwriters and the craft of songwriting like Kim did.  He was definitely one of the best friends a songwriter could ever have.
Our hearts, prayers and love go out to his lovely wife, Phyliss, his daughter Amanda Williams, his twin grandchildren Noah and Lily and the rest of the Williams family.
Click here for an accounting of Kim Williams' life written by David H. Lauver, KSA Education and Public Relations Director for the Knoxville Songwriter's Association.
Can't you just feel the energy, excitement and fun Doug Johnson and Kim Williams are having being singer/songwriters in this picture below!   They sang that great song they co-wrote,  "Three Wooden Crosses", at the 2015 SMSWF Opening Night Kickoff Show.