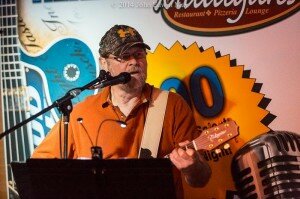 Singer songwriter since teens.  Played in first rock band in high school
Latest bands country / classic rock,  Miller Creek, Cold River Band,  Moose and Company.   Moved to Nashville in 1995 played about all writer venues Broken Spoke, Courtyard, Douglas Corner, Exit Inn, Bluebird, 12th & Portor, Boardwalk and many more.   I've  had open doors to publishers Zomba (Mike Hollingsworth) and Little BigTown Publishing(Woody Bomar),  ( song by song basis).
Former  NSAI  member attending meetings regularly while in Nashville. Moved back to Knoxville in 2000 due to a family illness. Currently a KSA member.       Now writing and co-writing with Bobby Johnston  and playing local writer nights various venues,  Mulligans at Gettysvue in Knoxville, Crystelle Creek Restaurant & Grill in Gatlinburg.
Attended SMSWF Rocky Top Co-writing retreat in Gatlinburg Tn  in March, where he co-wrote two songs with Kim Williams an a collective group of other songwriters.
Song writing influences. Don Gibson, Willie Nelson, Johnny Cash, Merle Haggard, Kris Kristofferson, Dean Dillon, Kim Williams, Shawn Mullins. And too many more to mention. Still writin' and Rockin' !!!