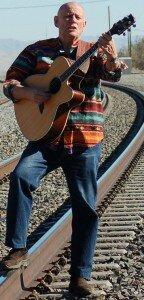 Born in England, Richard is a renaissance man, who as a young man, honed his skills in the pubs and folk clubs of England and Europe. He has entertained people around the world with his talent and insight. His songs and poems are a reflection of life…..the joys and tears that we all experience.
The story of Richard's life reads like a movie synopsis – a singer/ songwriter/musician with charted records in several countries; an actor (graduating from the London Academy of Music & Dramatic Art); part of the international entertainment duo Richard and Mary for over 43 years; a well-known public speaker on everything green and sustainable and Prostate Cancer; a special events producer, radio talk-show host and when he was younger – a race car driver, bull rider and police officer. Richard has travelled and performed in every country in Europe, all around South America, China, Singapore, Hong Kong and Russia. 2014 marks 50 years for Richard in the Entertainment business!
Richard was diagnosed with prostrate cancer in 2011 and thanks to the doctors and nurses of the City of Hope Hospital in Duarte was diagnosed and cancer free in all four weeks!
For further information or to set up an interview with Richard Byford please contact Byway Entertainment at 760-320-9054 or email Richard at richard@bywayentertainment.com