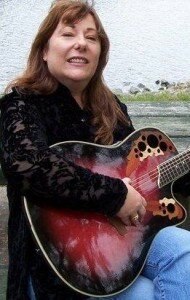 Renae Hudson, feels blessed to live in Wilson County adjacent to the Country Music Capitol of the world. It's no wonder she has chosen to express her spiritual Gifts through lyric & melody.
Renae , has always been a musical sponge of sorts. She has roots going back to the early days of country & bluegrass. Her mom sang with the "Johnson Sisters" at hotel resorts in the 30's & 40's. At Christmas there was Mitch Miller, Bing Crosby & other pop music of the day. Later she found Fleetwood Mac, Bonnie Raitt & other great bands of the 70's.
At the age of 12 she started singing & playing the guitar. She developed a strong voice secured her a role as a lead vocalist in rock bands, but there was always something missing. Then after she had 'put her dreams on hold' to persue raising a family, she found a gift that had laid dormant, the ability to write. The 1st song the Lord gave her was a cheerful but thought provoking Christmas song. This set the tone for her to use her new found gift in ministry.
She wrote a theme song ['Silver Key'] for 'Habitat For Humanity'; as well as hosting benefits on their behalf. 'Back Porch Pickin' as it is called has become a venue for singer / songwriters to display their craft in a habitat that benefits all of humanity.
The content of Renae's songs weren't ready to be harvested in her younger years much like fruit taste best if left to ripen on the vine. The feelings, emotions, hurt, pain, laughter & joy expressed in her lyrics & melodies offer a unique prospective on life.