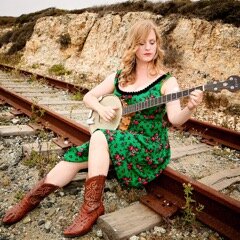 The Driftless area of the American Midwest escaped damage during the last glaciation. It was a refuge, allowing resident flora and fauna to thrive while those in surrounding areas were decimated by large-scale upheaval. This is what music is for Megan Saunders and The Driftless – a sanctuary from the often rough waters of every day life. Together with Jason Reed (guitar) and Ashley Cofield (violin), the group creates a joyous space, a refuge that you can share.
Megan grew up in Vermont, now lives in Tennessee, and has released two albums, The Driftless (2012) and Long For The Dory (2014), as well as singles and albums in collaboration with artists from the US, Canada, Europe and beyond.
Long For The Dory was recorded directly to tape by award-winning producer Cookie Marenco (Max Roach, Taj Mahal, Ladysmith Black Mambazo). The album is a collection of material that illustrates what the group has become known for: well crafted songs, skillful instrumental work and raw emotional performance.
She is a recipient of the Song of the Year award for songwriting in the Americana genre, and is known for building a sense of story and place in her songs. The group has a sound that spans playful, luminous and haunting, all while keeping a foot in American roots music. With songwriting that has been compared to EmmyLou Harris and Kate Wolf, and a sound that has been described as "…evocative enough to enchant and warm and soft enough to cling to like sun dried sheets and a faded quilt fresh off a windblown line", Saunders has a sound that you do not want to miss.