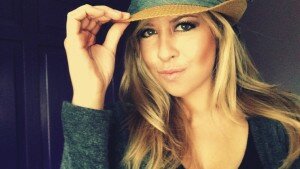 Logan will be opening for Hit Writers Steve Dean (who co-wrote "Watching You" Rodney Atkins and "Southern Star" for Alabama) and Wil Nance (who wrote "She's Everything" Brad Paisley and "Clean Up On Aisle #5" with Mo Pitney). Dean also wrote hit songs for Reba McIntyre ("Walk On); Lee Greenwood ("Hearts Are Made To Break"); and Oak Ridge Boys ("It Takes A Little Rain"). Nance penned several George Strait songs including the #1 hit "Round About Way" which he co-wrote with Dean. Nance also wrote "Carrying Your Love With Me" George Strait plus received a BMI award for his top ten Joe Nichols single "Cool To Be a Fool".   Dean and Nance are in Gatlinburg Mar. 20-21st doing a Co-Write with Hit Writers for the SMSWF Rocky Top Co-writing Experience at the historic Gatlinburg Inn.
Murrell began singing in a highchair just before she turned 2. She sang "This Is The Day" all the way to the end without missing a word as her mother watched in amazement. The church Logan attended with her family at that time did not have a nursery. "I guess she just picked up on the songs that we sang often, as she was always in the service with us" says her mother. When the pastor heard this, he had Logan singing her first song in public the following Sunday. Logan learned to play the piano at 4 years old and now plays the guitar and mandolin as well.
At 9 Logan began singing at Elwood Smooches Old Smoky Hoedown. Logan was the featured vocalist of the 2006 Clayton Christmas Concert sharing that honor 2 more times with the Knoxville Symphony. Upon meeting Jim Clayton, Logan travelled doing shows with him. She was in the Knoxville Opera production of LaBoheme at the Tennessee Theater 2007. Logan is a cast vocalist at the Country Tonite Theater and has also been a part of the Hatfields and McCoy Dinner Show.  Murrell is a member of the Cokesbury UMC's Praise Team. Mentored and produced by Jay Demarcus of Rascal Flatts, Logan is an accomplished and published singer/songwriter.   Sept. 2014 she played the Bluebird Café with Rob Crosby ("Friday Night" Eric Paslay) and Doug Johnson ("Three Wooden Crosses" Randy Travis).