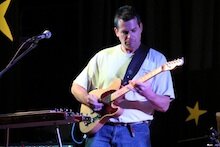 Lee Johnson co-wrote the song "Numbered" with Mitch Townley  the 2014 SMSWF Songwriters Competition Grand Prize Winner.
Lee Johnson is definitely an award winning singer/songwriter/musician/producer with roots in Rock, Pop, Blues, Country, and Bluegrass. Lee writes and produces songs to pitch to Artists and/or Film/TV.
Lee won 1st Place in Durango Expo "WWAHM" Feb 2014! Lee's song "How We Roll" aired on ABC's "Nashville" 12/4/13! Lee won 1st Place in "Show Me the Music" Nov 2013, 1st Place "Smoky Mountains  Songwriters Festival" Aug 2013, 1st Place in SongU "Golden Ticket" May 2013, Broadjam April 2012, 1st Place "Hillbilly Culture" June 2012, 1st Place NSAI "Hitsville" April 2011 and 1st Place Durango Expo "WWAHM" Feb 2010!
18 yrs FT music instruction, and 25 years of performances. Lee is Coordinator for N. COLORADO NSAI. Lee toured nationally, released 2 CD's with "Runaway Truck Ramp" 1998-2003. See "Rolling Stone" Sept 1999. Lee opened for "Peter Rowan", "Tony Rice", "John Cowan", "Leftover Salmon", "String Cheese Incident", "Yonder Mountain String Band", "Derek Trucks", "Moe" and many more! http://www.boulderguitar.com, http://www.facebook.com/leejohnsonsongs and other SM @leejohnsonsongs
Lee signed his song "Tough Times" with publisher "Ole" in 2011.  Lee won First Place in the Durango Song Expo Contest Feb 2010. Prizes included co-write with hit song writer "Brice Long" of Nashville. Lee has top placements in many other song contests nationally and internationally.