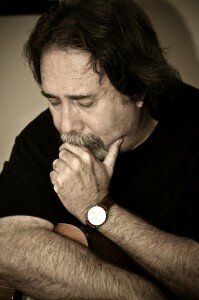 Jim McBride is a CMA Award Winning, Grammy nominated songwriter and former President of the Nashville Songwriters Association International. His writing career spans over 30 years and includes over 200 album cuts, 18 top 40 singles, 10 top ten singles and 6 number ones.
Originally from Huntsville, AL, Jim grew up in a house filled with music from his mother's radio. He absorbed every note of every country song he heard and began writing songs at an early age. At 21 he traded a pistol for his first guitar and took lessons from his uncle. He eventually contacted another songwriter from North Alabama, the legendary Curly Putman, to get advice and guidance. Curly encouraged Jim to continue to write and send his songs to Nashville. He had several cuts over the next few years but his big break had yet to come. He had been urged to move from Huntsville to Nashville to be part of the country music scene but was reluctant to give up his steady job at the United States Post Office to pursue his dream.
Jim told himself that if he ever had a song to reach the top ten, he would move his family to Nashville and in 1981 that is exactly what happened when Conway Twitty's release of "A Bridge That Just Won't Burn" reached #2 on the Billboard charts. That was shortly followed by his first number one song, Johnny Lee's "You Can Bet Your Heart On Me". The next ten years brought many album cuts by major artist ranging from Johnny Cash to Alabama. In 1987 Waylon Jennings reached number one for the last time in his long career with Rose In Paradise.
In the early nineties, he met a young singer looking for a record deal named Alan Jackson and an instant writing friendship was born. The two collaborated on a number of hit songs including "Chasing That Neon Rainbow", "Someday" and "Who Says You Can't Have It All" all #1 songs. Their biggest hit came in 1993 with the smash hit Chattahoochee. The song received the honor of Song of the Year from The Country Music Association, ASCAP, American Songwriter Magazine, British Country Music Association, Canadian Country Music Association as well as Billboard Magazine's most performed song of the year. The song was also nominated for a Grammy and Academy of Country Music Award.
Other notable achievements include his Creator Award from the Alabama Music Hall of Fame in recognition of his contributions to the musical heritage of his home state as well as an Academy of Country Music Song of the Year nomination for Angels In Waiting by Tammy Cochran. Numerous ASCAP and other organizational awards have been bestowed upon Jim McBride throughout his career.
In all his songs have been recorded by more than 80 major label artist including GeorgeJones, Johnny Cash, Waylon Jennings, Travis Tritt, Reba McEntire, Alan Jackson, Johnny Paycheck, Randy Travis, Alabama, Trace Adkins, Jerry Lee Lewis, Crystal Gayle, Diamond Rio, Lonestar and many others. His songs have been on over 80 million albums sold.  He continues to write and stay active in the songwriter community, serving several years on the Nashville Songwriters Hall of Fame Board as well as the NSAI Board.
CMA Song of the Year for "Chattahoochee"
ACM Song of the Year nomination for "Angels In Waiting"
14 ASCAP and BMI awards
ASCAP Song of the Year for "Chattahoochee"
10 Top Ten Singles
6 Number One Singles
Continuous 30 plus year career
Grammy Country Song of the Year nomination for "Chattahoochee"
2 N.S.A.I Songwriter Awards
Songs Recorded by over 80 major label artist
Songs on over 70 million records sold
Alabama Music Hall of Fame Creators Award recipient
5 time Music City News Songwriter Award Winner
Billboard's Most Performed Song of 1993 "Chattahoochee"
ARTISTS WHO RECORDED JIM McBRIDE SONGS
JOHNNY CASH, GEORGE JONES, WAYLON JENNINGS,JERRY LEE LEWIS, WILLIE NELSON, KRIS KRISTOFFERSON, CHARLEY PRIDE, BRENDA LEE, ALABAMA, CONWAY TWITTY, CHET ATKINS, ALAN JACKSON, REBA McENTIRE, RANDY TRAVIS, DWIGHT YOAKUM, PATTY LOVELESS, KEITH WHITLEY, TOBY KEITH, BROOKS AND DUNN, TRAVIS TRITT, MARK CHESNUT, JOHNNY PAYCHECK, THE OAK RIDGE BOYS, LONESTAR, BILL ANDERSON, DIAMOND RIO, TRACE ADKINS, JOHN ANDERSON, JOHNNY LEE, LORRIE MORGAN, PATTY GRIFFIN, MICKEY GILLEY, JOHN CONLEE, ANNE MURRAY, WADE HAYES, RAZZY BAILEY, PAM TILLIS, COLLIN RAYE, MEL McDANIEL, DON KING, LUKE BRYAN, JIM ED BROWN, BILLIE JO SPEARS, AARON TIPPIN, SAMMI SMITH, CHRIS YOUNG, JOSH LOGAN, DAVID BALL, LACY J. DALTON, JOHNNY RODRIGUEZ, MOE BANDY, ED BRUCE,  LOUISE MANDRELL,  CHARLIE LOUVIN,  KEN MELLON,LEON EVERETTE,JON RANDALL, DARYL WORLEY, JOHN WESLEY RYLES, VICKI BYRD,
RUBY FALLS,  BOBBY CARLSON, ELIZABETH COOK, THE HAGERS, THE OSBORNE BROTHERS, DOTTIE WEST, THE FORESTER SISTERS,  THE KINGSMEN QUARTET,  GUY CLARK, JOE DIFFIE, TRACY LAWRENCE,T. GRAHAM BROWN, CHELLY WRIGHT, KEITH STEGALL, DEL REEVES, JOE STAMPLEY,  JOY LYNN WHITE, TAMMY COCHRAN, BRADLEY WALKER, JESSICA BOUCHEAU, SHAWN CAMP,TOM WOPAT, WALT WILKINS, TEA GOANS, CONNY VAN DYKE, LOU HOBB, BRENT LAMB, JEFF AND SHERRY EASTER, THE McKAMEYS, THE CHIGGER HILL BOYS, LAUREN LUCAS HANALENA, THE SEIKES FAMILY, SHANE BARMBY, BOBBY PINSON,GARY WOLF, PRAIRIE OYSTER-CANADA, CATHERINE BRITT-AUSTRALIA ,JASON BLAINE-CANADA, BECCY COLE-AUSTRALIA, GINA JEFFRIES-AUSTRALIA, ADAM HARVEY-AUSTRALIA, MELINDA SCHNEIDER-AUSTRALIA, TAMARA STEWART-AUSTRALIA,  and DIANA TRASK-AUSTRALIA.
SOME OF THE TRACKS THESE ARTISTS RECORDED WERE NEVER RELEASED