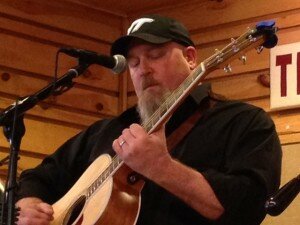 Jeff McClellan is singer/songwriter originally from east Tennessee, now living in southwest Virginia. He is truly one of those people that just loves songs. As he relates, "A song can make us laugh, make us cry; it can inspire us, make us recall things like first loves, first cars, and family milestones. Songs are like time machines; like monuments that mark our lives and call us to remember. A song can take us immediately back to places and times in our lives in a way that make us feel just like the first time we heard it. A song is a wonderfully powerful tool!"
As far back as he can remember music has always been a huge part of his life.  "I grew up listening to people like The Carter Family, Johnny Cash, Marty Robbins, The Stanley Brothers, Jim and Jesse, Flatt and Scruggs, and Bob Dylan. Mix in some J.D. Crowe, Newgrass Revival, Skynyrd, Grateful Dead, Goose Creek Symphony, and Seldom Scene in my teen years, and I was a musical hodgepodge of influences," recalls Jeff.  Styles and genres to him were never as important necessarily as bringing something with substance from the heart.
"I'd love to write the next ACM song of the year," offers Jeff, "but that's not why I write songs. I write to communicate an idea or a thought, or a feeling, and do it in a way that connects with people. Maybe that's the best way to describe my approach to writing; being a communicator and not necessarily a performer."
Jeff's musical journey started early, singing in church with his family. His mother plays piano, so the family spent many hours gathered around the piano singing gospel standards. Singing in youth ensembles as a teenager led to performing in musicals during high school. During the college years, Jeff played in working bands to pay the bills.
"I've been writing songs for as long as I can remember, but I've only recently been actively attempting to get some of them published and pitched," adds Jeff. "The Smoky Mountain Songwriters Festival is such a great place to meet all levels of writers, make some industry contacts, and learn more about the craft of writing good songs."
Jeff plays festivals, coffee shops and listening rooms, both solo and with acoustic groups; trying out new songs most every time he plays.
Jeff's writing style is more bluegrass/roots/country if it were to be tagged. "I just write what I feel and see, in the way that I am comfortable doing it. A publisher that I had the pleasure of meeting at the 2013 Smoky Mountain Songwriters Festival gave me a great piece of advice. He said simply 'write what you know'. That's the best advice I have gotten so far in my songwriting journey. I'm not trying to sound like someone else; just me. And if I don't ever write that ACM song of the year, my journey will have been just fine regardless."
Check out some of Jeff's songs, maybe something there will connect with you!
www.reverbnation.com/jeffmcclellan