1ST PLACE WINNER – 2013 SMSWF BAND PLAYOFF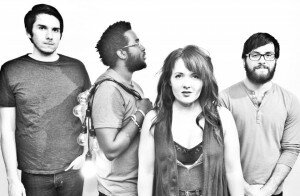 We are FOS a four piece rock band based out of Oklahoma City, Oklahoma. We are more than just friends, we are a close knit unit of skilled musicians who strive on creating music that resonates. Our sound has been compared to female lead versions of As Tall As Lions and Kings of Leon.
The name "Fos" originates from the Greek word for light (FOS) and is reflective of the energy that we bring to the music industry!
Donald James – Drums, Zach Stabler – Bass, Guitar, Chavez Soliz – Guitar and Keri Blumer – Vocals, Guitar
https://www.facebook.com/wearefos
booking@wearefos.com