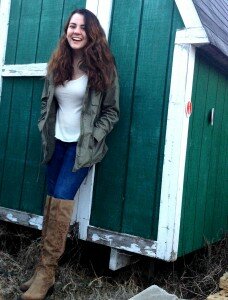 Hi! My name is Emma Brooke. I'm a 19 year old singer/songwriter from West Milford, NJ and I recently moved to Nashville, TN! I'm thrilled.
I've been singing since I was very little. One of my earliest life memories is going to the dollar store with my  Grampa and hearing "It's All Coming Back to Me Now" by Celine Dion. I went home and sat on the couch on our sun porch and SCREAMED this song at the top of my lungs. Not bad for a 5 year old.
Songwriting became a passion at 15. I love it. And now that I live in Nashville I've done a good amount of cowriting and it's really fascinating to me. Everybody has their own process and everybody brings something different to the table.
My EP One Day is available on iTunes, CD Baby, Google Play, Spotify, and whatever else you can think of. Enjoy my site! God Bless