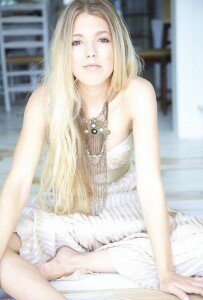 Ever since Emily Reeves was a little girl, she has experienced growing up under two parents involved in the entertainment industry, from acting to music. Although some kids stray from their parents' career paths and choose something different, Emily was drawn to the musical side of things.
From birth to now, music has been her life. But, when her family moved to Nashville, Tennessee, at age 14, due to her father's musical pursuit, the mere dream of music slowly became more of a reality. As she watched her dad from the side of the stage, Emily marveled at the idea of what it would feel like to perform on a stage like her dad, and to write songs that an audience grew to know and love. This was the point when she truly realized that if she didn't at least give music a shot, she would regret it forever.
As her passion for music, performing, and writing slowly grew, so did her list of musical influences. She began listening to music even more constantly than she already did, giving her a variety of artists to be inspired. The versatility of her sound stems from artists like Colbie Caillat and Jason Mraz, to Dixie Chicks and Patty Griffin. As her individual style began to develop, Emily soon began performing at school events, such as, Coffeehouse Theatre and the Spring Jubilation Concert, where she became progressively more comfortable playing her music in front of people.
Today, she is a musician who is most comfortable and passionate when on a stage playing and singing for anyone willing to listen, if only to reach one of them. Not only does she perform as a solo singer-songwriter, but she has also become part of the duo Whiskey + Wine, whom also includes fellow artist/actor, Justin Gaston. Stemming from her passion to perform, Emily has now decided to embark on the same path as her parents by taking on pursuing a career in the realm of acting.
www.emilyreeves.net