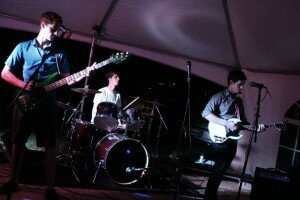 Dover Court looks like a traditional three piece rock band.
Looks can be deceiving.
With a sound that can switch from biting snark, to sweet sentimentality, to deranged and psychadelic, to huge, fuzzed out walls of sound, all while never missing a beat, they meld melody and noise with playfulness and aggression.
Dover Court is Josh Weishaar (Vocals/Guitar), Justin Weishaar (Drums), and Jonny Weishaar (Bass). Yes, they're brothers. They're from Westfield, WI, which is in the middle of nowhere- which they're mostly fine with, since it means there are fewer neighbors to call in noise complaints.
They're currently playing gigs in support of their first album, "GET LOST", which was entirely self funded and recorded, and is available for free download on Reverbnation.