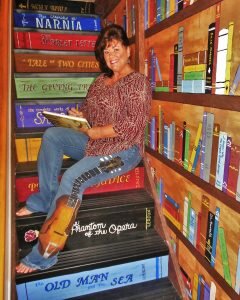 Cyndee GrayHarr is a singer/songwriter on the DirkWorks Productions record label in Nashville, TN.  She also has a ten-song publishing deal with DirkWorks Music, BMI. Together they released her newest project titled "Songs For Sale". She shares lead vocals on the album with hit writer Wil Nance, Brittany Carter of the group If Birds Could Fly, Michael Neil Huff of the group Sycamore Hollow, Thomas Taylor of the band Highrise and Aaron Davis of Ron Short & The Possum Playboys.
As a writer, GrayHarr has a distinct style that is intellectual yet emotional, carnal yet ethereal, and eclectic yet fresh. Her word choices and phrasing artfully merge the conversational with the poetic. She has two previous original albums to her credit, "Perfect Ain't Good Enough" and a duet album with Dwight Bishop titled "Being Human". She is an active member of the Smoky Mountains Songwriting Festival, Knoxville Songwriters Association and NSAI. She has won several songwriting competitions, conducts lyric writing workshops for Mountain Music School and will be teaching "Introduction to Lyric Writing" at Mountain Empire Community College.
As a live performer, Cyndee is lively and engaging. A downhome honesty flow through her voice, her eyes and her smile soliciting the listener to become her partner in the performance.  Her stage persona has been described as a mixture of Dolly, Reba, and  Jennifer Nettles. She has been a lead and back-up vocalist in several bands, appeared in tv commercials and performed musical theatre. She loves doing studio work as a demo and/or background singer and enjoys the camaraderie at songwriter showcases and rounds in Nashville and throughout NE Tennessee and SW Virginia.
Cyndee grew up on the Tennessee side of the Virginia/Tennessee line near The Birthplace of Country Music where she was exposed to the roots music of The Carter Family and the traditional country of Haggard, Jones and Pride. She took piano lessons as a child, sang and played in church and studied voice and vocal performance in college. She received her B.S. in Mass Communications from East Tennessee State University and worked in both print and broadcast news media. She was later a freelance consultant in event planning, public relations and marketing. In 2011, she received her post-bac certification and licensure for middle and high school English education.
Now, as part of a growing songwriting community and with a determination to continue writing better and better songs each day, Cyndee is looking forward to seeing what God's plan is for her songwriting future!
You can interact with Cyndee at her new website:   cyndeegrayharr.com  OR on the following social media:   facebook.com/cyndeegrayharr   twitter.com/cyndeegrayharr   instagram.com/cyndeegrayharr  reverbnation.com/cyndeegrayharr   and linkedin.com/in/cyndeegrayharr