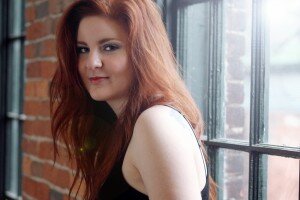 The redheaded singer/songwriter from Mount Vernon, KY, knew at an early age that her natural ability with music would encompass her life. "I started singing in church at 3 years old, " says Camille, "so I can't remember not wanting to perform. That same year I sang "Somewhere Out There" [from the movie An American Tail] with a high school choir behind me – I kept going, I just didn't want to stop singing."
Camille dedicated her entire life to music, from performing to writing and teaching. At 12 years old she began guitar lessons for a year – after learning the basics, she stopped attending and started training herself. She started writing her own music and lyrics at roughly the same age, and in her junior and senior year of high school performed in the Kentucky all-state choir before completing her Bachelor of Arts in Music Education with an emphasis in Vocals at the University of the Cumberlands in Williamsburg, KY. Spending three years teaching choir back in Mount Vernon and three more years in Vancouver, BC, Camille became active in musical theater and started playing live gigs throughout the Vancouver area. With her true passion of writing and performing encompassing much of her time and desire, Camille made the ultimate decision that it was time to pack up her life in Vancouver and make her home in Nashville.
The multi-talented songstress can sing all genres of music, ranging from classical to bluegrass, but finds her home in country, because of her exposure to the genre from a young age.  Influenced by country female powerhouses such as Martina McBride, Faith Hill, Reba McEntire, Wynona Judd, and Trisha Yearwood, mixed with current influences include Kelly Clarkson and 20's jazz singer Betsy Smith, her songs capture all the different stages in her life. Focusing on those intimate feelings that everyone thinks but never says out loud, the doors are wide open for self expression in today's music world – "When I write music, it's stories. And that's what country music is – when I've written other genres, I just don't feel like it works. My lyrics are really relatable to country music and I never want to compromise my writing to fit radio standards."
With aspirations of touring internationally and topping the charts, Camille keeps her main goal humble: she seeks to inspire, encourage, and help others. "I want my music to be relatable to people of all ages and all walks of life. I also want to be successful enough that I can give back to the many things I'm passionate about." Some of those passions are St. Jude's Children Hospital and others, and also support efforts for domestic violence victims. Keeping to her roots, music education is at the forefront of her goals – "I would love to start a non-profit music school regardless of how far I go (in my career). I just want children to have more access to music education".
Currently in the studio recording her new album, the songstress is showing the world how talented and dedicated she is to her craft – with 12 new songs to be released, all are self-written with only one co-write. Expect new music from Camille, available here on her website, in Spring of 2015.