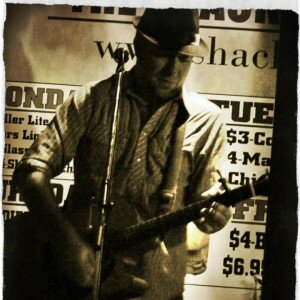 Brandon Fulson is a singer songwriter from East Tennessee. At age 16, Brandon got his first guitar when he traded his coon hound for his Dad's Martin flat top. He learned to play by listening religiously to the Hank Williams 24 Greatest Hits record and later got his first electric guitar when he discovered bands like Lynyrd Skynyrd and The Allman Brothers Band. Brandon has spent the last 15 years playing relentlessly in local and regional clubs and has logged over a thousand bar gigs. Playing with bands Dellenger, Gunman's Sidewalk and most notably the Realbillys.
Brandon's songs are a reflection of the life he has led, and the roots of his raising. Drawing from personal experience, Brandon says he writes for the poor and downtrodden often referring to himself as the "dark poet". Songs about lost loves, drug addictions, death, heartbreak, drunkards, hippies, whores, and hypocrites Brandon pulls no punches and isn't afraid to speak the truth through his music, regardless of who might deem inappropriate.
The Realbillys currently reside in KnoxvilleTennessee and are a three piece country-rock ensemble. The band is always writing and recording new material and is booking live gigs in the surrounding area.