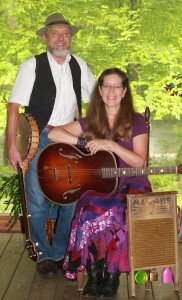 Boogertown Gap is both a place and a band. The core members of the band are Ruth Barber and Keith Watson of the Great Smoky Mountains. They are husband and wife, and together they perform Old- time Mountain Music as Boogertown Gap. Their musical performance includes stories and history of the music, ballads, fiddle tunes, dance tunes and spirituals performed in traditional style and on traditional instruments: fiddle, guitar, claw-hammer banjo, pennywhistle, spoons, washboard and washtub bass.
Their love of nature, this area, and the music and culture of their ancestors is expressed as they weave lyrics and music from the past in their own unique way. This brief bio-sketch cannot do justice to BTG, and you will find their performance an authentic and absorbing experience.
In the 21stCentury they have set aside their previous careers to focus on preserving the old traditional music of the Appalachians, and to share and teach it to interested folks.
They have four published CDs.