Singer/Songwriting Duo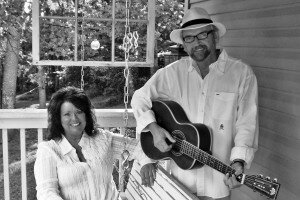 A "humacana" duo, Bishop & GrayHarr shed a different light on reality that makes the truth a little easier to bear. No sermons or judgments, their songs are living, breathing creations begging for communion. More than stories, they're pure, honest, personal confessions that solicit the listener's perspective.
"It's that collaboration", says GrayHarr, "that makes the listener a co-writer each time they hear the song and that's the heart of what we call humacana."
Humacana isn't exactly roots-based. Roots-inspired is more accurate. So Bishop & GrayHarr start with what they know but then "we just do what we do, put it out there, use what comes back and let it grow".
Most of their separate musical careers were spent as members of various groups. In mid-2012, they made the brave decision to head in a new direction. The acoustic duo is focused on songwriting to express their creativity and they're excited about new opportunities. "At first we were apprehensive, not knowing how our work would be received", says Bishop, "but what we learned quickly is that when you're writing and performing from an honest, open place – its universal and that kind music knows no bias."
Bishop is featured on cello and GrayHarr on piano. Stereotypically, these instruments are associated with classical music, but the duo uses them in unexpected ways and add other instruments as the songs dictate.
Since the release of their first full-length cd, "Being Human", Bishop and GrayHarr have performed in theaters and at festivals, restaurants, coffeehouses, parties, and writers' nights. The entire cd or individual cuts can be purchased on iTunes, Amazon, ReverbNation, and most other internet music distribution sites.
One of their highlights was being featured on Studio One with Dave Carter of WETS, part of the National Public Radio network.
"We're clear on the direction of our music and it's found an audience." says GrayHarr, "Now, we're just eager to keep stretching our creative muscles."
www.reverbnation.com/bishopgrayharr
https://www.facebook.com/BishopandGrayHarr